Bright annealing furnace: Vertical batch type metal wire heat treatment annealing furnace for steel parts ,  carbon steel, alloy steel parts and magnetic materials in protective atmosphere,  of small batch of scrolling strips;
Gas carburizing furnace:Industrial furnace pit type gas carburizing furnace for carbon steel parts, scrap metal;
Vacuum temper furnace:industrial iron batch pit type tempering furnace oven with hot air circulation for alloy steel parts , metal scalpel;
Hardenning and quenching heat treatment oven: Pit type hardening heat treatment machine for auto spare parts, brake disc, moulds;
Gas nitriding heat treatment furnace: Vacuum ovens for metal nitriding heat treatment for Aluminum dies, steel die.
Pit type Heat Treatment Furnace For Annealing/Quenching/Tempering /Carburizing Description: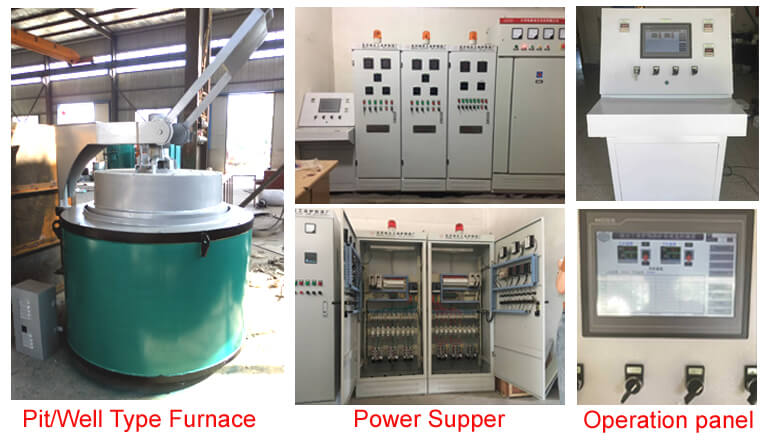 Almost well type vacuum annealing furnace are round type and installed in the pit for easy loading and un-loading the goods, which consist of furnace body, cover, heating element, loading basket, and temperature control system.

Parts Description:
1), Body Shell: Furnace shell made of A3 high quality carbon steel, with a thickness of 4mm;
2), Inside of  furnace cover: made by stainless steel plate.
3), Burner liner: Adopt the super light and energy conservation micropore fire-resistant heat reserving brick
4), Aluminum silicate fiber at between burner liner and shell, and also fill full of thermo-insulating power in gap.
5), Resistance wire: Adopt  the 0Gr27AL7MO2 high resistor alloy wire installed upon brick.
6), Furnace cover: Adopt the manual lever lifter or motor-driven or hydraulic.
7), Furnace installed fan: Made by a heat-resistance stainless steel shaft and fan blade  for uniform heating the work-piece
8), Limit switch:  Installed near the furnace cover for safety operation.