Induction Furnace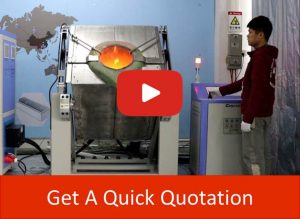 Medium frequency induction furnace  is widely used in the melting of non-ferrous ferrous metals& precious metals with operating frequencies between 50 and 2000 Hz. Compared with other melting equipment, an induction furnace has the advantages of high thermal efficiency, short melting time, low burning loss of alloying elements, induction furnace can be applied for a wide range of melting materials, which is low environmental pollution, and precise control of the temperature and composition of the metal liquid.
Below are the advantages of using an induction melting furnace.
1.Saves Energy
The processes involved in induction heating and melting do not consume much energy like other methods. This type of furnace uses an electric current flowing through copper coils to generate a magnetic field and the energy that heats up the substance inside or melts it. In many cases, the electric current does not have to be strong in order to be effective. It can help you save money and reduce energy costs.
2.Provides an Even Temperature
An induction melting furnace provides even heat throughout the inner chamber. This means you do not have to worry about hot spots inside the oven or the inability to maintain a constant temperature. The evenness of the heat is very important especially when it comes to melting metals. Metals have a specific melting point, and it is necessary to maintain this temperature evenly for the best result.
3.Clean Combustion
Another advantage of induction melting furnaces is that it burns cleaner than other types of furnaces. This furnace does not emit smoke; instead, it gives you clean combustion, which ensures a safe environment for employees, as well as reduces the amount of pollution in the environment. It's a win-win situation for all.
The choice of using an induction melting furnace for your melting requirements has lots of advantages over other types of furnaces. Our Induction melting furnace helps you save energy, money, and the environment.
Cooldo is a company that manufactures various kinds of Induction Melting Furnaces. They can also help you customize the furnace to fit your requirements.
If you are having a problem making the right choice for a melting furnace, you can contact us for professional advice.